Presentation and History
The hotel dates back to 1899. It was founded by an association out of the Blue Cross, a movement campaigning against alcool.
It was the time of heavy problems of this kind during the early years of the process of the industrialization.
The Blue Cross was founded in Switzerland by the clergyman Louis Lucien Rochat from Geneva, whose ideas were introduced in Basle by Arnold Bovet.
The hotel is today under the protection of national heritage.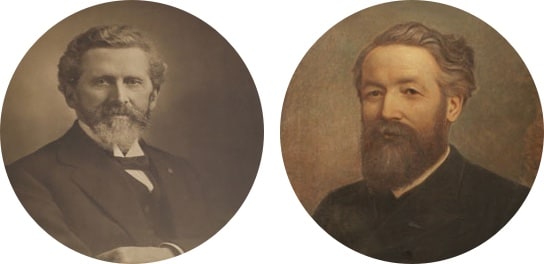 Louis Lucien Rochat (1849-1917) - Arnold Bovet (1849-1903)

Our story
About 1910 the neighbouring houses (today House Bovet and Rochat Lodge) where bought.
In the first years the house was primarily for socially weak persons, but also the writer Hermann Hesse and influent personnalities as Vladimir Ilitch Lenin stayed here. The restaurant was the dominant part. During some years it had even the function of dining room for the students of the near university.
In the years after World War II the hotel was upgraded with a lift, a reception hall and in the rooms current water and telephone were installed.
After 1990 it was totally modernized and constantly adapted at the state of the art of a hotel, which gave him the actual character.
With the effect to guarantee the status of a restaurant without alcool in the future, even when the number of members of the managing association diminishes, the legal structure was changed in 2011 to a foundation which supports organizations like the Blue Cross.